No doubt you've been told to avoid using "hype" in your copywriting and sales messages, right? And I'll bet there have been times when you've closed a sales letter page because the hype was too ridiculous for words. But when it comes to defining hype and especially to determining how much is just right, the water gets murky and no two marketers can give you the same answer.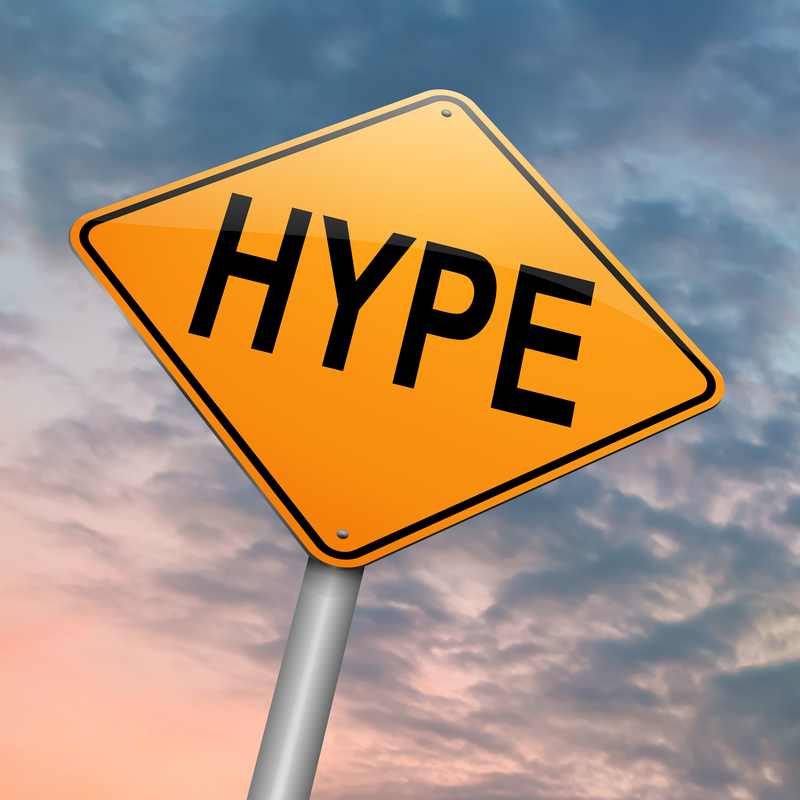 That's because "hype" is subjective. One prospect's perception of hype is another prospect's perception of just the right sales message to get them to buy. In addition, you need some hype to sell. No hype = no excitement, which means no sale. Here's what I mean:
Sales message example #1: "This system is for sale for $33.33, here's the order button."
Now you've got to admit, that's hype free. It's also benefit free, boring and will capture the interest of just about nobody. Of course, if the system is already well-known and you're discounting it to 5 bucks, you've made a sale. But if you're selling a good product at a reasonable price, you're going to have to turn on the hype. Here goes:
Sales message example #2: "This Revolutionary New System Cuts Your Work in Half While Tripling Your Productivity."
Not bad, and certainly worthy of further investigation if you're interested in getting more work done in less time. And yes, there is hype for sure, especially in the words "revolutionary" and "new" – just not so much that it raises red flags and causes your prospect to tune out.
Sales message example #3: "The Easy System that Earns You a Thousand Dollars a Second with NO Work."
Looking at the words themselves, there isn't much in the way of hype. We didn't say it's the greatest system in the world, or that everyone loves it, or that there's never been anything like it since the beginning of time. However, is it believable? No. And therefore, the promise is just so much hype in the ears of the prospect and doesn't offer enough substance.
Sales Message Example #4: "Give Me 5 Hours and I'll Show You How to Earn $1,439 Per Month on Autopilot."
Hyped? I don't think so. This message offers a specific benefit in exchange for a specified amount of work – 5 hours. The amount doesn't sound unreasonable because we've all seen examples of a few hours of work resulting in a monthly income of several hundred or even a couple of thousand dollars per month. Most importantly, the reader isn't being promised something for nothing, which will ALWAYS instill doubt in a prospect. It sounds honest, it doesn't sound hyped, and it's completely plausible.
What have we learned from these examples? Plenty. First, if you don't use some hype you're never going to sell much of anything. People need to get excited before they'll whip out their wallets and they need to see a clear benefit to making the purchase. They WANT to be fired up, they want to feel their heart race a bit and experience that adrenaline rush of getting a great deal. The better you can extrapolate how the features of your product will benefit the consumer and improve their life, the more likely they are to click the order button.
Second, be believable. Making wild claims is the ultimate in hype – and if you can't back those claims with rock solid absolute undeniable proof, you're better off not making those claims at all.
Third, be specific. "Make $2,000 a month!" sounds much more like hype than "Earn $2,078.55 a month." Why? Because the specific number is more credible, as though it's already been done. "Type Faster" doesn't mean much, but "Type 15 Words Per Minute Faster after Just 4 Lessons" tells the prospect exactly what to expect. Non-specific claims and rounded numbers just naturally sound like hype, regardless of whether or not they're factual.
Fourth, tell them what the catch is. This goes right back to being believable, because if you tell someone they can get a great benefit, they immediately want to know what the catch is. Often this equates to price, but if you can show a different catch, such as "5 hours," then you take their mind off of price and onto the question of, "What do I need to do for 5 hours to make that $1,439 a month?"
And by the way – normally an article like this would start out with the definition of hype, but I wanted to save this gem for the end. Here's what hype really means:
Hype: Verb meaning to stimulate or excite
Hype: Noun meaning extravagant or exaggerated claims
As you can see, hype is good so long as we strive to stimulate and excite, rather than exaggerate or stretch the truth.