I've been working on some updates to the Plug-In Profit Site. You can see an example of a new member website here: https://www.homebiz.website/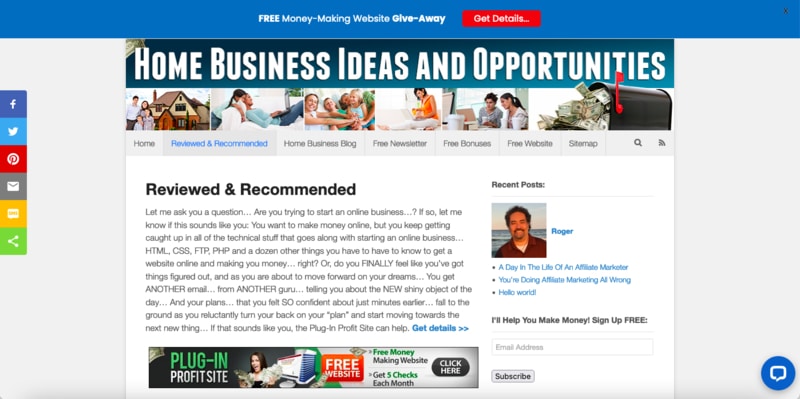 3 new features that have been added to every new member website include the social sharing buttons you see added to the left-hand side of the site above, the animated "Money Bar" added to the top of the site that promotes your PIPS affiliate link, and Live Chat located on the bottom-right of the site that empowers you to interact with your website visitors in real-time, and allows people to leave you messages when you are offline.
If you'd like these services setup on your site, simply contact me through the help desk and I'll get them setup for you right away: http://support.pluginprofitsite.com/helpdesk.htm
Also notice the "Recent Posts" section at the top-right side of the website that includes a photo and a subscription form that allows visitors to subscribe to your blog. This helps you build greater connection with your visitors, and every time you make a new blog post, your subscribers will receive the update via email which pulls them back to your website and keeps you and your business on their mind!
This addition is part of our co-op services so if you are an active co-op member and want that setup on your site, just ask and I'll get it done for you. If you are not a co-op member yet, you can join here: https://www.pluginprofitsitecoop.com/options/
What's great is that once this is setup for you, I'll be blogging for you every day, your visitors subscribe to your blog updates and this powerful process of relationship-building through effective content marketing is being done for you automatically – all helping you make more sales and grow your commissions.
If you have any questions or want any of this setup for you today, you know where to reach me.
Best regards,
Stone Evans
Developer, Plug-In Profit Site