The only way you can fail is to give up. If you don't give up, you can never fail, and it is only a matter of time before your perseverance pays off. Trust me, it's true.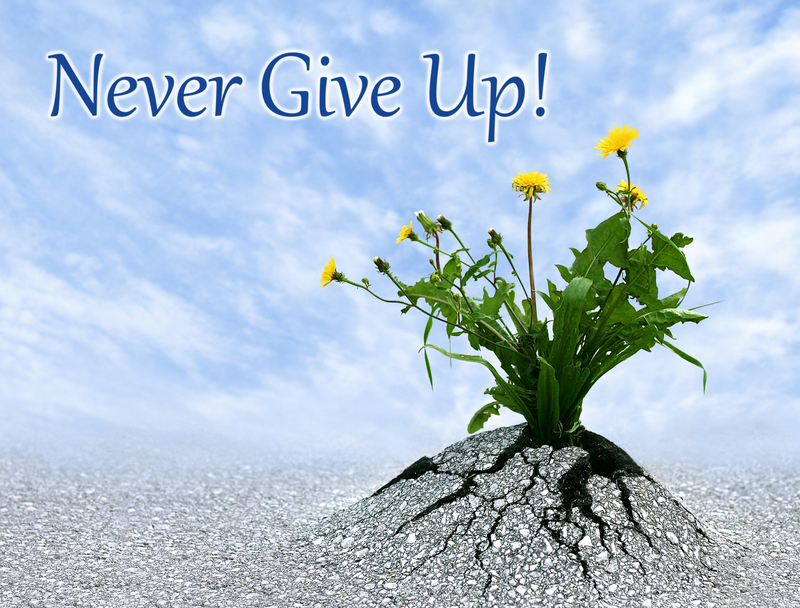 For example:
Have you heard of Theodor Seuss Geisel? Or perhaps you've heard of Dr. Seuss?
Theodor studied at Dartmouth College and Oxford University because he planned to become a series writer. But the Great Depression saw him working as a cartoonist and advertising illustrator just to get by.
Deciding to launch his writing career with a children's book, Theodor wrote, And to Think That I Saw It on Mulberry Street.
Unfortunately the manuscript was rejected 27 times. 27! Imagine going to 27 different publishers and having every single one of them say, "NO!" No doubt you'd want to throw the manuscript out, which is exactly what Theodore planned to do.
As chance would have it, he ran into an old college friend who happened to be working for a children's publisher. Yes, the book was published, and Dr. Seuss went on to write over 40 books that have sold over 200 million copies. He won Emmy and Peabody Awards and even a Pulitzer Prize.
So what would have happened if Theodore had thrown out his manuscript after his 27th rejection? He wouldn't have had it to give to his friend. And likely he would have given up and stayed in cartooning and advertising.
Never give up.
One more story…
You've probably never heard of Paul Rokich. He was born in Utah, near a sulfur dioxide belching refinery that destroyed everything around it. The place looked awful, so Paul vowed he would bring back the trees that had been destroyed by the sulfur.
But the refinery refused to give him permission to replant the trees. So Paul went off to college to study Botany, where his professor told him nothing would ever grow in such a wasteland.
But Paul didn't give up. Years later he began sneaking back onto the refinery grounds and planting seedlings week after week. Most of his seedlings died, but he kept planting. Drought killed many, some were destroyed by fire, others were dug up by workers, and most just wouldn't grow in the poor soil. But then, some of them started to grow. And animals began returning to the area.
Eventually Paul got permission to be on the land. He got machines and a crew to help him, and today the area is 14,000 acres of trees, bushes, plants and wildlife.
Even when things seem impossible and beyond your control, and even when your efforts prove futile time and time again, just keep planting.
Because sooner or later, persistence always pays off.