We all make mistakes, errors, blunders and things we really wish we hadn't done.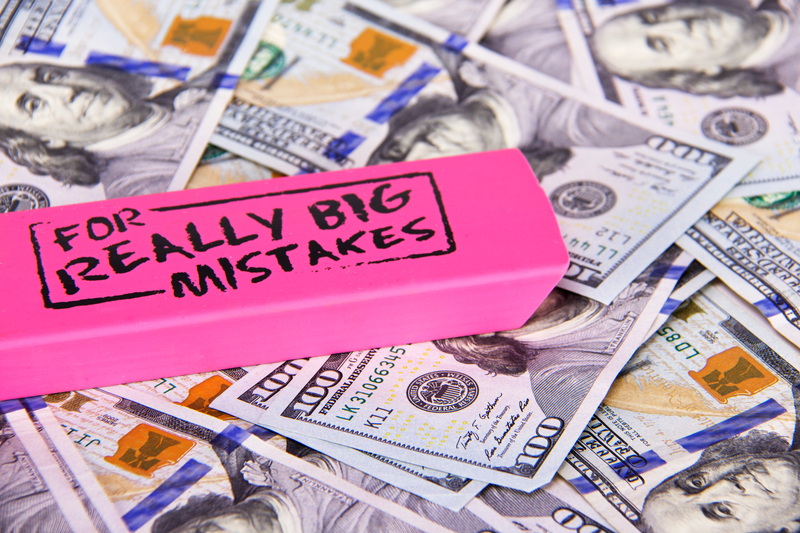 Remember the last time you facepalmed?
Yeah, me too.
Let's see if we can catch the next mistake BEFORE you make it.
And let's also see if you're already making one or more of these marketing mistakes.
If you are, you're not alone.
Targeting Everyone
Who are you targeting with your online marketing campaigns? Everyone with internet access? Everyone who needs to lose weight? Every parent on the planet?
You need to narrow your target market.
If you look at the demographics of your current customers, that will tell you who to target. Don't make assumptions about the demographics of your customer base. Women do search for sporting goods and men are interested in hair care, for example. Get to know who your customers are and you'll do a better job of targeting.
Or if you are just starting out in a niche, it gets even easier. You get to decide exactly who you want to target and find out where those people are found.
Not Having a Blog for Your Website
Your website needs a blog, because blogs increase traffic. Businesses with blogs tend to have over 90% more inbound links, which helps you to get found by the search engines.
Blogs also help you to build a relationship with your prospects and customers, while giving you credibility and visibility. You write a post with great info, your prospects see and realize you know what you're talking about, and they start reading more of your posts. Pretty soon they realize they like you. They trust you. And they buy from you.
Blogs are also a place where you can interact with your customers and prospects. You make a post and they get to respond. Then you get to respond to their comments. You can use your blog to get feedback on ideas and products.
And you can integrate your blog with social media, driving more traffic to your blog and website from social media, while driving visitors to your social media pages for even more interaction.
Lastly, you can share links to all of your blog posts on social media, not just your new posts. This is a great way to keep all of your pages alive.
Not Tracking Return on Investment
Do you know how much money you're spending on your online marketing strategies and what kind of return you're getting?
You don't want to blindly throw money at digital marketing strategies without measuring the return on investment. And if you don't measure your return on investment, you won't know how successful (or unsuccessful) your strategy is. The key is to stick to what's working and modify what's not working. And to know this, you've got to track and measure.
To calculate your return on investment, you'll first figure out what you're measuring. Is it traffic? Leads? Click-through rates? Conversions? Once you know your campaign goal, you can calculate your ROI.
Take the financial gain and subtract the cost of your investment. Divide that number by the total cost of your investment, and that's how you calculate return on investment.
Be diligent about tracking ROI on all of your campaigns from here on out, because it's the only way to see if your strategies are successful.
Not Using Videos
Videos are engaging and capture attention like no other medium. And video content can be a great way to get people to go to your website.
In a recent survey, 43% of people who watched a video in the past month also checked out a website because of a video. 22% said they requested information on a product. And 15% made a purchase – because they saw a video.
Get your own YouTube channel and take advantage of the second highest trafficked website on the internet. Then post your videos on Facebook, and even make 1 minute videos for Instagram. Videos can generate new prospects for you, and ultimately lead to new customers as well.
Forgetting About Mobile Users
Depending on your niche, it's entirely possible you're getting more visitors from mobile devices than laptops and computers. This is exactly why your website needs to be optimized for mobile devices.
50% of people say they will use a company less often if the website isn't mobile friendly, even if they like the brand. 48% of people think you don't care about them if your website isn't optimized for mobile users.
And because 90% of time on mobile is spent in apps, you may want to consider making a mobile application for your business. But even if you're not going to create an app, you'll want to at least make certain your site is mobile friendly. Not sure if it is? Pull out your phone and check right now.
Having a Slow Website
Slow websites drive visitors away. You work hard to get people to your website – why send them away before they even get to see it? Your visitors will abandon your site if it takes too long to load. If you need to spend more money for faster web hosting, then do it. Every second counts and you cannot afford to lose customers.
Not Offering Discounts to Your Best Customers
Frankly, I think you should offer coupons and discounts to everyone from time to time. This way people who are on the fence may jump in, order, and realize they love your products.
But you should at the very least be offering discounts to your current customers. They deserve to be rewarded for patronizing you.
When you bring out a new product, offer it to them at a discount. Ask nicely for feedback and testimonials, and you'll likely get both. The feedback can be key to tweaking your product and making it even better. And the testimonials can earn you many more sales in the future.
Shunning Social Media
I'm surprised by the number of marketers who still avoid social media. It doesn't cost you anything to make a Facebook, Twitter or Instagram account. And it is a great way to interact with your customers at low or no cost to you.
You can use social media for brand building, interactivity, buzz building, consumer insights, enhanced marketing effectiveness and broad reach. And because your customers are on these platforms, you need to be on them as well. In fact, 81% of people in the US have a social media profile.
When you do create your profiles, don't buy followers. If you get caught, you'll lose your reputation. Plus, it looks darn suspicious if you have 10,000 followers and not a single one of them engages with your content.
Not Commenting on Blogs
This applies to your own blogs and other blogs, too. On your own blog, you should engage with readers by answering their comments. Your subscribers will be surprised and pleased. And in return they will begin commenting more often. Plus, blog comments help with SEO to rank higher and get found by more traffic.
Keep your comments appropriate and professional at all times. And don't forget to comment on other people's blogs, too. It's a way to subtly promote your own brand.
Your comments should be natural and informative to establish your credibility and likeability. Remember to use your full name and your face avatar, as well.
Not Guest Blogging
Why would you want to go to the trouble of writing an entire post of great content, just to post it on someone else's website?
Three reasons:
First, you get exposed to an entirely new audience who may not have even heard of you. And yes, some of them will click your link and go to your website to grab your free lead magnet, thus joining your list. And some of those folks will become your customers.
Second, you'll create a connection with a peer in your niche. And you never know what can happen if you continue to grow this relationship – it could eventually become very fruitful.
Third, because you can link back to your website or blog, you'll be improving your SEO by increasing your domain authority.
How many of these mistakes are you guilty of? No worries, because now you can take action, get busy and correct them. Just pick one for now to work on, and when that's in motion, you can begin working on the second one. No need to feel overwhelmed if you have several of these to do. Remember, inch by inch it's a cinch.